Conference venue: Thermal Hévíz Health Spa Hotel, Hungary
The Conference takes place at Ensana Thermal Hévíz Health Spa Hotel where we have a contingent of rooms for 100 participants with half-board service.
A few minutes' walk from the world-famous thermal Lake Hévíz, the Thermal Hévíz Health Spa Hotel in the town rises over its surroundings. The Four-Star hotel includes six pools, a remodeled sauna, spectacular conference rooms, and a professional medical center.
Accommodation
Please book your room & board at the hotel here. Note that the number of places is limited so register early to guarantee your place!
Hotel room rates include half board (breakfast and dinner) and use of wellness and fitness facilities.
If you wish to share a room please find your own room-mate and make a booking for both of you. (If you wish to be paired with someone to share a room please contact the organisational team and we will do our best to put you in contact with someone, but note that one person will need to book and be responsible for the room).
Rates for 5 nights (28 August-2 September)
Single occupancy
Standard room
€495.00
Superior room
€600.00
Double occupancy
Standard room
€367.50/person (€735.00 total)
Superior room
€420.00/person (€840.00 total)
city tax of €1.70/person/night is extra
Cancellation policy
Cancel by 16:00 local hotel time at least 7 days prior to arrival to avoid a penalty charge equal to 30% of your stay.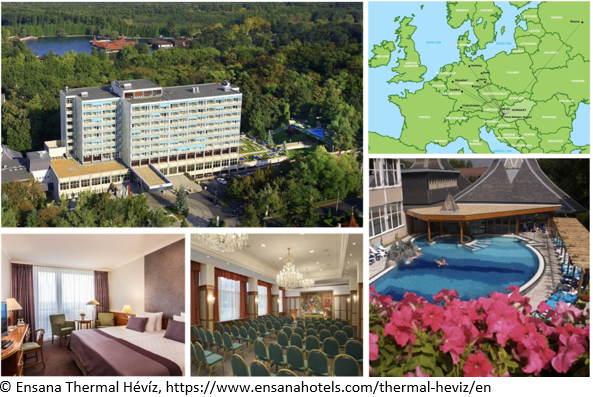 Lake Hévíz
Hévíz is the home to Europe's largest natural thermal lake, and the shelter of a two-thousand-year-old culture of medicine. The unique bioactive composition of the mud that it contains are a by-product of the lake's peat bed. The flow of water is very strong and the water in the lake is completely replenished every 72 hours. Its minimum depth is 2 meters, reaching a maximum depth of 38 meters, exactly at the point where the hot thermal water comes out to the surface.
Even today there aren't many places where you can relax – and float! - all year round in thermal water (always more than 23 degrees Celsius, whatever the season) with active health properties.