General Information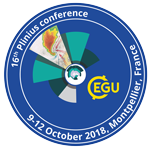 The 16th Plinius conference will take place from Tuesday 9 October 2018 to Thursday 11 October 2018 in Montpellier, France, at the Rabelais conference center (27 Boulevard Sarrail, Montpellier).
The objective of the 2018 conference is to provide an interdisciplinary forum for discussions on our current state of knowledge of Mediterranean risks in a climate change context, such as heavy rainfall events, strong winds, sea surges, floods and landslides. This will be achieved by bringing together scientific experts in the fields of meteorology, hydrology, geomorphology, sociology, engineering, and also governmental or private risk management actors.
This conference will also provide a meeting venue for ongoing international initiatives and projects, which seek better ways to investigate or cope with Mediterranean risks. In this context, 2 sessions are co-organized with the MISTRALS/HYMEX research program. The active participation of early career scientists will be encouraged via reduced participation fees and awards for best oral and poster presentations.
Thank you
We wish to thank all the participants for their contributions. The winner of the best presentation award is Maria Francisca Cardell (Spain) and the winner of the best poster award is Khalid Barkouki (Morocco).